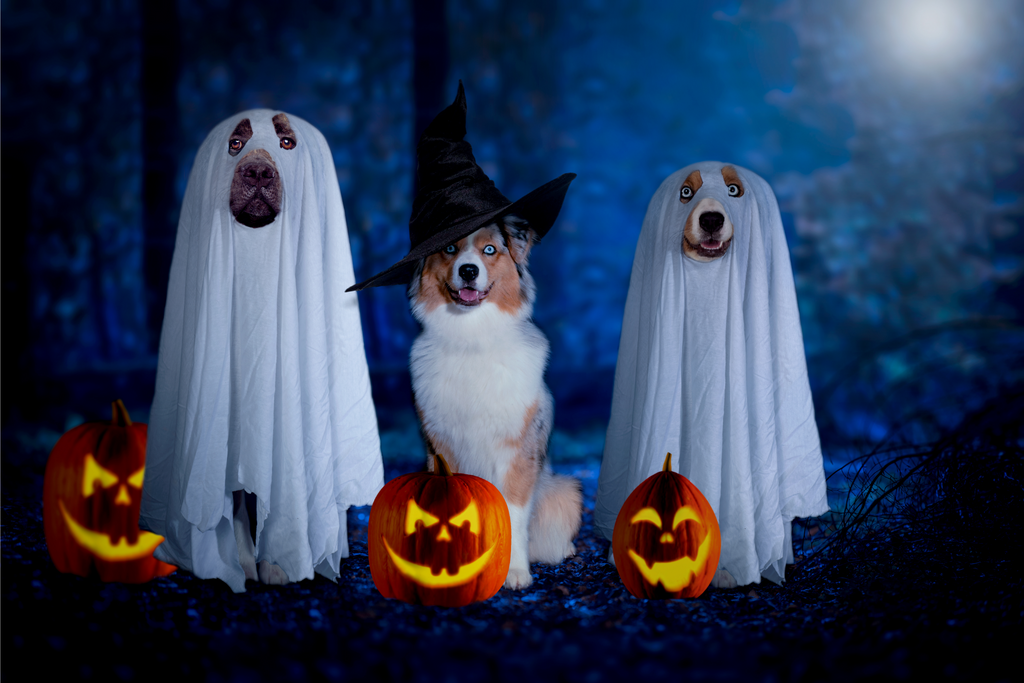 It's October, and the spooky season is officially upon us. As you get ready to celebrate all the candy, costumes and creepy fun of Halloween, don't forget that your dog might not be feeling quite as festive. This time of year, it's important to remember that navigating Halloween can be downright tricky for many dogs.
Here are our top three tips for keeping pets safe and comfortable this Halloween season:
Paws off the candy!
We all want to 'treat' our dogs, but Halloween candy is not the way. Many treats that are safe for humans can be toxic for dogs, particular chocolate, and candy made with artificial sweeteners such as Xylitol. Hard candy, candy containing raisins and nuts, and basically anything loaded with sugar and fats are unhealthy, and potentially dangerous to your dog.
Be sure to keep the treat bowl well out of reach, and keep an eye out for dropped candy if you have little humans around your house. If you go for a post-trick-or-treating walk after the ghost and goblins are off the streets, be on the lookout for leftover candy or empty wrappers, which can also pose a threat to your pup's health and safety.
Avoid costume concerns.
Some dogs just looove to get dressed (just peep our Instagram feed if you don't believe us,) but others prefer to go it in their birthday suits. For all dogs, though--even those who can rock a puffer coat or thermal pj's like nobody's business--getting dressed up in a costume can be a stressful situation. Whatever you put your pup in, make sure it fits well, and doesn't limit their ability to see, breathe, or go to the bathroom! Be wary of any costume that has small pieces, beads, snaps, or ribbons that could be chewed off. And never leave a costume-clad dog unattended.
On the flip side, your dog might not dig seeing you in costume either. Not being able to recognize their human in disguise can really freak a dog out! Even the most social of dogs can get overstimulated with too many unfamiliar sights and sounds--seeing little human ghosts and goblins running around can be downright scary. It might be best to let them sit out trick-or-treating altogether.
Work the door.
Picture how your dog reacts when the doorbell rings on a quiet afternoon—and then multiply that by the number of kids in your neighborhood to get an idea of how they might react at the height of trick-or-treating hours. With the door opening and closing repeatedly over an extended period of time, it's a good idea to keep dogs away from the door, and in another room if possible. Even so, it's best to play it safe by making sure your dog is wearing proper identification at all times.
Here's to a happy, safe Howloween to all the fabdogs…and their humans!
P.S.- All fabdog Halloween toys are BOGO till 11/01/22 or while supplies last.